Welcome to HedgingFX
A fintech providing affordable Share Class Hedging solution
Our company helps asset managers, insurance companies and investment banks with their FX hedging calculations, using a fully automatized platform.
While most offers include calculation and execution, we chose the unique approach to provide our clients only with calculations allowing them to significantly decrease costs and increase efficiency.
Our unique approach :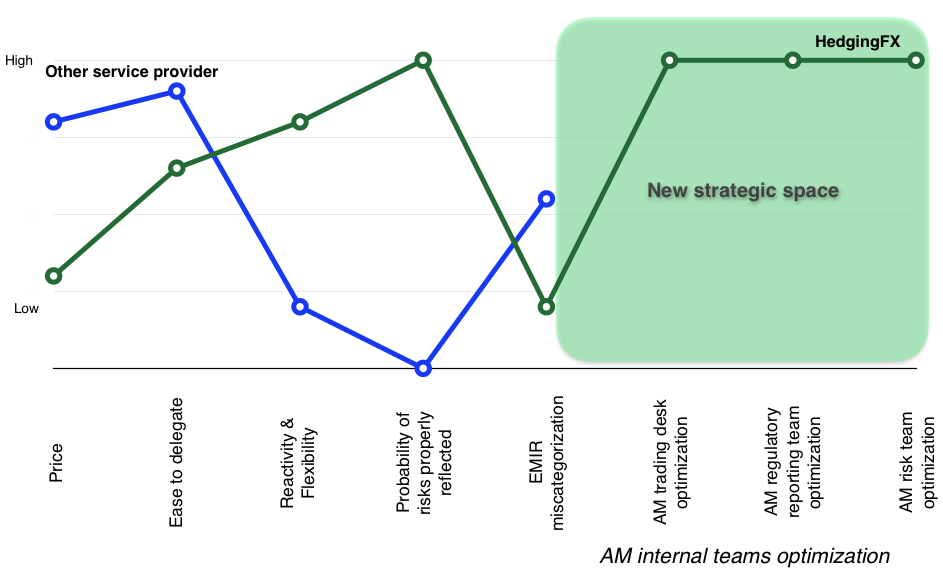 Price: Our offer can be up to 10x cheaper compare to your usual service provider.
Ease to delegate: Usually, Asset Manager delegates this service to their Fund Admin which holds most of the necessary informations to perform and execute orders relative to this service.
Reactivity/Flexibility: As a small company, we are much more agile and responsive to potential new develppement asked by our clients compared to their usual providers.
Level of risk control: As none of these positions are reflected inside the Asset Manager's portfolio management system, most risks metrics regarding those funds are false (please see our "added-value" page for more details). This regulatory breach can be easily solved using our services as it is the asset manager's responsibility to execute those trades.
EMIR miscategorization: one of the many unpleasant consequences of this regulatory breach is that EMIR categorization can be false for all the funds subject to this service.
AM internal teams optimization: Working with HedgingFX allows our clients to enhance several internal teams while having complete control of your risks and regulatory reporting activity.
By only delegating computation for this service,
1. Asset Manager will eliminate the risk of being in reglementary breach while enhancing their internal resources.
2. Investment bankers will reduce their costs and broaden their client base while increasing their reactivity and flexibility.
By only offering computation, HedgingFX focuses on this service core value allowing you to reduce costs, eliminate reglementary risks while leaning on internal processes
Our range of services is designed to avoid significant impact on investment returns caused by Exchange rate fluctuations
Our solution incorporates numerous hedging criteria that helps you define your own hedging strategies
We spent several years in different front office positions in a tier one investment bank before launching our own company